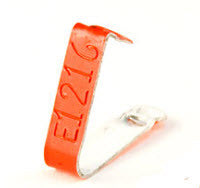 National Band & Tag Bag of Numbered Enamel Color Coated Aluminum Tags - Style #893 Jiffy Small Animal, Poultry, Rabbit (200/bag)
National Band & Tag Bag of Numbered Enamel Color Coated Aluminum Tags - Style #893 Jiffy Small Animal, Poultry, Rabbit (200/bag)
Description of National Band & Tag Bag of Numbered Enamel Color Coated Aluminum Tags - Style #893 Jiffy Small Animal, Poultry, Rabbit (200/bag):
#893s Aluminum Ear Tags for use as ear tags for lambs and goats
• Poultry Wing Band • Small Animal Ear Tag • Rabbit Ear Tag  
Key Benefit of Jiffy Aluminum #893 Numbered Metal Tags (200/bag):
Flat self-piercing post locking into closed housing promotes disease control.
Consecutive numbering up to six digits. 
All numbering will include preceding zeros. (Example: 001-100 instead of 1-100).
Size: Inside dimension when closed approx 3/16″H x 5/8″L
COLORS- Red, Light Red, Blue, Light Blue, Green, Light Green, Yellow, Orange, Light Orange, Pink, Light Pink, Purple, Light Purple, Brown, Light Brown, Tan, Black, Gray, White, Neon Green, Gold
Apply with #893s applicator
The Jiffy is a very versatile self-piercing tag that can be used for many different applications. Its sharp reinforced piercing point and concealed locking structure provides the same protection as the sealed band.
Tagging Hints: The Jiffy is designed as a one-step application. Insert the band in the applicator first. Line up the "bubble" on the band with the recess in the applicator. Make sure the "bubble" side of the band is flat against the jaw of the applicator.