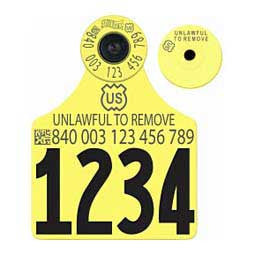 Allflex Global Maxi Numbered 1 Side Tag With Button - All in One - Tamperproof - USDA 840 FDX
Allflex Global Maxi Numbered 1 Side Tag With Button - All in One - Tamperproof - FDX
Due to Allflex requirements, orders must be a minimum of 25 tags.
Description of Allflex Global Maxi Numbered 1 Side Tag With Button - All in One - Tamperproof - FDX: 
Combines Allflex Maxi visual tag with FDX EID component in one tag.
FDX (full duplex) Read Distance up to 75cm (29.53")

 

Antenna & reading system dependent
The Global Maxi Female has US shield, unlawful to remove, QR code and the 15 digit 840 number above the management number. 
Key Benefit of Allflex Global Maxi Numbered 1 Side Tag With Button - All in One - Tamperproof - FDX: 
Global Maxi Female is the most popular size ear tag for cattle. Ideal for applications in dairy and long fed markets. It makes a great cattle tag. It has high retention, along with a very large surface area for marking. 
Size: 3" Wide x 4" High 
Key Benefit FDX EID: 
• Available in FDX (Full Duplex) 
• Tamperproof Ultra Cap™ provides ultimate security and retention
• ISO Compliant 
• All-in-One Tag weights: FDX Maxi 17.0 grams
• Two colors available: White and Yellow
Apply with
: Allflex total tagger
A Premises ID is required when ordering 840 tags.
How to get a Premise ID Number: To obtain a premises ID (PIN), please contact the state animal health authority [Animal Disease Traceability (ADT) Administrator] for your state. A directory can be found at www.aphis.usda.gov/traceability/contact_us/directories.shtml.
Ideal for use in management systems where Electronic ID (EID) is required/needed. Lets you identify animals quickly and accurately.
Reading these EID Tags: These tags can be read by an Allflex RS420HD Bluetooth Stick Reader or any ISO-Compliant EID/RFID tag reading device. The transponder is encapsulated in a weather-resistant polyurethane material. Each transponder chip number is also printed on the outside of the tag.
Allflex pioneered electronic livestock identification with the introduction of the first EID products in North America in 1993. Commonly referred to as Electronic ID, EID or RFID (radio frequency identification), more than one million head of production livestock animals have been electronically tagged with Allflex Electronic Identification tags.