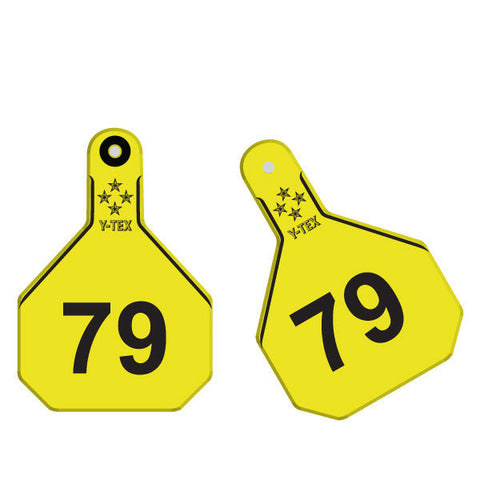 Y-Tex AA Large 4* Numbered 2 Sides Tag - Female Tag Only
Y-Tex AA Large 4* Numbered 2 Sides Tag - Female Tag Only
Description of Y-Tex AA Large 4* Numbered 2 Sides Tag - Female Tag Only:
Y-TEX All American® 2-piece Ear Tags are made of an advanced polyurethane formulation and are engineered to prevent cracking, remain flexible and provide excellent longevity.
The All American ear tag design features a Snap-Lok® collar for superior retention, a longer neck for greater visibility and ultraviolet inhibitors to resist fading.
Available as standard or tamper-proof; blank or laser imprinted.
Y-Tex uses a propriety laser mark called PureLaser. Y-Tex laser mark is 100% laser, (not ink over laser), dark and guaranteed to last the life of the animal.

Key Benefit of Y-Tex AA Large 4* Numbered 2 Sides Tag - Female Tag Only:
Y-Tex Ear tags flexibility provides excellent longevity.
Use nails, screws, zip ties, twine, wire key chains, or attachment hooks through the 3/16" hole to secure tags.  Female Tags can be used as Vineyard Row tags, or in orchards or tree farms. Tags are used to identify Oil rig equipment and drilling equipment. Tags can be made into bag tags or luggage tags. Tags can be used on hospital equipment and are often used on x-ray aprons. Colors are bright primary shades that provide good contrast to imprinting.
Size: 4star large cow ear tag: 4-3/4" high x 3-1/4" wide
Apply with: Y-Tex UltraTagger® (blue) or UltraTagger® Compact (orange) for 2-Piece Tags
COLOR RANGE: White, Yellow, Orange, Red, Blue, Green, Black, Purple, Hot Pink
CUSTOM NUMBERS:  UP to 6 digit sequence available #'s 1 to 999,999
1-3/4" Sized Numbers- use 3 digits sequence
1-1/2" Sized Numbers- use 4 digits sequence
1" Sized Numbers- use 5 digits sequence
3/4" Sized Numbers- use 6 digits sequence