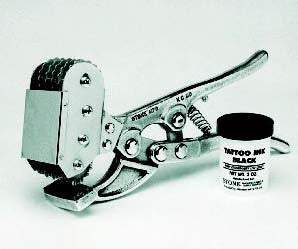 Stone Pro Rotary Tattoo Outfit - 4 Chain Numbers (0-9) - Black Ink
Stone Pro Rotary Tattoo Outfit - 4 Chain Numbers (0-9) - Black Ink
Description:
Pro Rotary 4-Digit Tattoo Outfit with Numbers 0-9 on 4 chains
Key Benefit:
Mark thousands of animals in comfort – without repeating yourself!
• Thousands of 4-digit combinations.
• Fast, easy advance to next number.
• Nylon rollers and pawls.
• Brass digit plates with nickel-plated steel needles that punch clear tattoos.