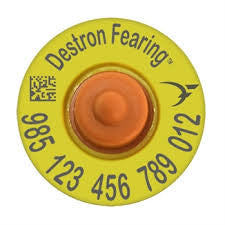 Destron Fearing Duflex EID 985 FDX Ear Tag with Buttons (25/bag)
Destron Fearing Duflex EID 985 FDX Ear Tag with Buttons (25/bag)
Description of Duflex RFID 985 FDX EID e.Tag with Button:
DuFlex e.Tag (FDX) Button Tamper Evident EID Tag with Button bag of 25. Each e.Tag contains a passive, full duplex (FDX) radio frequency identication (RFID) transponder encoded with a 15-digit identification number that can be read in milliseconds, even in "noisy" environments with high amounts of metal and electrical interference. 

Key Benefits of 985 FDX EID Duflex e.Tag with Button: 
Read Range Up to 4 feet (1.2m) at optimal tag orientation depending on system used
Full Duplex (FDX)
ISO Compliant (134.2 kHz)
USDA and ICAR approved
Optimal Read Range
Tamper evident and non-tamper evident designs
Superior cold weather application
Sequential numbering
Read range is 4 feet depending on system used and optimal tag orientation.
Size: 1.2" diameter x .54"D (3cm x 1.4cm) 0.29 oz (8.2g)
Apply with: Duflex pro grip applicator
e.Tags assign a unique numeric identity to livestock through universally recognized radio frequency technology.  This Identification process can unlock many important value-added variables that allow producers to participate in quality, age and source verification programs, as well as reduce time, financial costs and labor on a daily basis.
Reading these EID Tags: These tags can be read by any ISO-Compliant EID/RFID tag reading device. The transponder is encapsulated in a weather-resistant polyurethane material. Each transponder chip number is also printed on the outside of the tag.