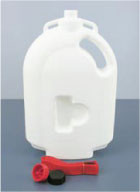 Datamars Syringe Simcro Velpar Backpack with with Pocket, 38mm Dual Vented Cap, Strap and Cone Cap - 5L
Description:  
5 Liter backpacks provide a unique cavity for spigot cap and strap.
Key Benefits:
•Free standing for safe, easy filling and display purposes.
•Packs allow for overfilling to cater for promotions where additional product is supplied.
•Comes complete with straps, transit cap and spigot cap for inverted use on back or chute.
Size: 1L/2.5L/5L*
*L=Liter (3.8 liters = 1 Gallon)