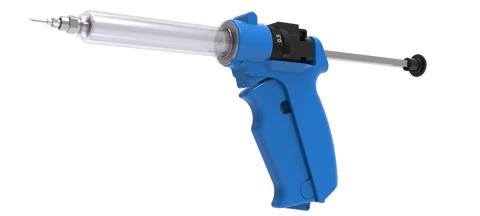 Datamars Syringe NJ Phillips Repeater Applicator - Pistol Grip
NJ Phillips Repeater Syringe - Pistol Grip 25ml or 50ml selectable dose with Polysulfane Barrel
Description of NJ Phillips Syringe - Repeater Pistol Grip 25ml or 50ml selectable dose

 syringe 

with Polysulfane Barrel-
Easy to use injector with metal handle for quick and easy application.
Key Benefits of NJ Phillips Syringe - Repeater Pistol Grip 25ml or 50ml selectable dose syringe with Polysulfane Barrel: 
Easy choice of 5 fixed dose settings.
Cost effective, reliable and durable.
Built in needle magazine saves you time.
Ergonomic fingertip action reduces hand strain.
Also available with a polypropylene barrel in 25mL and 50mL.
Available in:
25mL dose range: .5mL - 25mL Increments of 0.5mL
50mL dose range: 1.0mL - 50mL Increments of 1mL
Dose Type: Selectable
Major Service kit available for purchase.