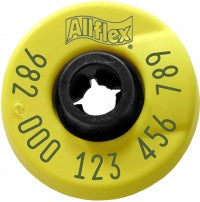 Allflex EID Bag of Reusable 982 HDX Buttons (20/bag)
Allflex 982 HDX High Performance Half Duplex EID Reuseable Swine EID Ear Tags with Extended Buttons (20/bag)
Description of Allflex 982 HDX EID Reuseable Swine EID Ear Tags with Extended Buttons (20/bag): 
Allflex 982 HDX Reuseable Swine EID Tags with Extended Buttons (20/bag). This generation of Allflex Reusable EID Tag has a unique design that provides the ultimate in reusability, and retention. Transponder numbers are laser marked in a circular format on the edge of the tag.
Key Benefit of Allflex High Performance Half Duplex EID Reuseable Swine EID Ear Tags with Extended Buttons (20/bag)

:
HDX Technology
Can be reused to lower the per animal cost of EID
ISO Compliant
HDX Reusable Tag weight: 8.5 grams

Available as 982 manufacturer code 
Application:
For proper application and to ensure that the transponder is not damaged during application, make sure that the raised portion of the Ultra Tamperproof EID tag is positioned at the front of the applicator jaw. Allflex HDX High Performance Ultra EID Tags use the same Universal Total Tagger Applicator (RED) as the traditional Tamperproof Visual Tags. To apply tags, install Red Blunt Applicator pin and remove Black or White insert. The New Ultra Retract-O-Matic may also be used to install this tag. Extended small males are used for placement in a deeper location in the ear. See Application Guide. 
Ideal for use in management systems where Electronic ID (EID) is required/needed. Lets you identify animals quickly and accurately.
Reading these EID Tags: These tags can be read by an Allflex RS420HD Bluetooth Stick Reader or any ISO-Compliant EID/RFID tag reading device. The transponder is encapsulated in a weather-resistant polyurethane material. Each transponder chip number is also printed on the outside of the tag.