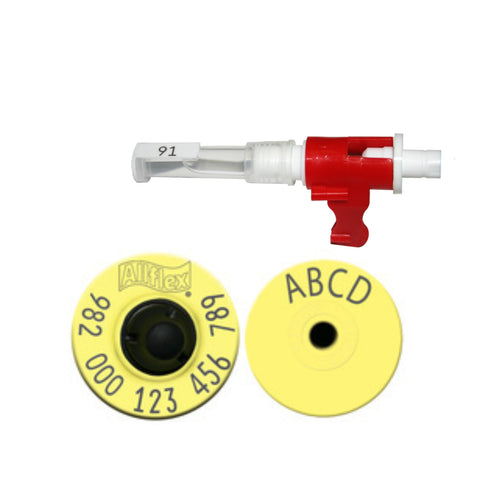 Allflex EID 982 FDX Button Matched with Tissue Sampling Unit
TSU Tissue Sample Unit with Allflex 982 FDX EID Ear Tag 
Due to Allflex requirements, orders must be a minimum of 25 tags.
Description of Allflex EID 982 FDX Button Matched with Tissue Sampling Unit :
TSU- Tissue Sample Unit marked with last 4 digits of Allflex 982 FDX EID ear tag
read article on Tissue Sampling Technology
Key Benefit: Allows clean, easy, and efficient collection of tissue samples for DNA analysis. As each tissue punch is collected, it is automatically sealed inside the collection tube in a specially designed preservative. Tissue samples can be stored at room temperature for up to one year before analysis. Tissue samples contain a large amount of high quality DNA, sufficient to yield excellent lab results. Each Allflex TSU is made up of a collection tube, metal cutter, and red plastic clip. Each TSU is designed for a single use; do not re-use any portion. 
Description FDX EID Ear Tag:
ALLFLEX Standard Performance (Full Duplex) FDX EID Tag with button. USDA (840) approved EID Full Duplex tags with Global Extended Small Male button back This Allflex 840 Tamperproof™ EID Tag has a unique design that provides the ultimate in usability, security and retention. This single use tag features a hard plastic Tamperproof cap. Official USDA 840 numbers are laser marked in a circular format on the edge of the tag.
Key Benefits: 
ISO Compliant with a tamperproof construction that provides security and retention, this HDX technology optimizes signal transmission and provides greatest possible read distance.
FDX Tag Size: 1.20'' dia. X .17" thick and weighs 5.6 grams
Apply with Universal Total Tagger (Red) or EID Ultra Retract-O-Matic™
Read Distance up to 75cm (29.53") Antenna & reading system dependent
Apply EID tag with: Universal Total Tagger (Red) or EID Ultra Retract-O-Matic™ 
Full Duplex Technology (FDX) is a design principle whereby the return signal initiates as soon as the beginning of the interrogation signal is received and the smoothing capacitor in the transponder has been charged. The return signal is received repetitively and without interruption for as long as a continuous interrogation signal is maintained. A FDX Transponder doesn't have to store energy to be able to return its entire data signal.
Construction: The tag is yellow (1.20" Dia. X .17" Thick) injection molded Polyurethane female with a black plastic Injection molded tamperproof (Tete Rigid) cap. The hard cap of the Lightweight Ultra Bovine tag provides the highest degree of security available, as any attempt to remove the male tag from the female would cause the tag components to break, rendering them unusable.
Allflex Tissue Sampling:
Collecting tissue samples has never been more efficient and cost effective. Scientific advancements in the mapping of livestock genomes along with continued development of affordable analytics has changed the sampling industry – making it easier and quicker for producers to use DNA for:
Parentage verification

Genetic selection

BVD diagnostics

Allflex has been working with the country's leading biotechnology companies, livestock genetic testing labs and leading livestock producers to develop a unique device for collecting tissue samples. The result is the nextGen™ Tissue Sampling Unit (TSU) by Allflex.

nextGen™ by Allflex maintains Allfex's commitment to innovation, quality and performance.
The nextGen™ TSU provides:
Fast, high performance sample collection

Samples can be collected in seconds with minimal animal restraint.

A single-squeeze motion collects a sample with minimum distress to the animal.

Clean, uncontaminated sampling. 

The genetic material is sealed in a specially designed preservative.

Visual, DNA-sample identification.

Instant confirmation of on-farm sampling success.

No more guessing whether enough genetic material has been gathered.

Minimize retesting. 

Tissue samples contain a large quantity of high quality DNA for genetic analysis yielding excellent lab results.