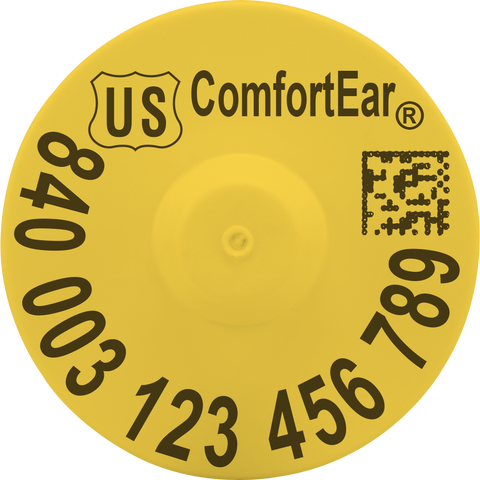 Z-Tag EID Bag of ComfortEar USDA 840 FDX Buttons - Tamperproof - Loose Bag (25/bag)
Temple Comfortear USDA 840 FDX EID Ear Tag with Extended Button Yellow (25/bag)
Key Benefits of USDA 840 FDX Comfortear EID ear Tag: 
Unique design convex ComfortEar™ back for:

Greater animal comfort
Faster wound healing

Superior readability to all other tags on the market
Approved for U.S. Code 840 applications
Overmolded technology to protect the electronic components
Lightweight, 7.2 grams
Applies with the Traditional rivet or Temple Herdsman™ Male Tags
Applies with the Temple Herdsman™ II EasiEar® Applicator
Key Benefit of USDA 840 Comfortear FDX EID ear Tag: 
NEW! The ComfortEar FDX EID tags are now Yellow to designate FDX technology! 
The Temple ComfortEar EID FDX ear tag has a unique convex back design for faster wound healing after application and greater animal comfort. The rivet provides a stronger locking device for better retention, easier application.
Electronic components are well protected with the over-molded technology.

Comfort Ear tags work well in matched pairs with the Temple Herdsman tags (standard 988 or USDA 840 which requires a premise ID number).

Application: Tags can be applied using the Z2 No-Tear Tagger or Z Tag Universal Tagger applicator for Stockman and RFID Ear Tags.
Full Duplex Technology (FDX) 
FDX is a design principle whereby the return signal initiates as soon as the beginning of the interrogation signal is received and the smoothing capacitor in the transponder has been charged. The return signal is received repetitively and without interruption for as long as a continuous interrogation signal is maintained. A FDX Transponder doesn't have to store energy to be able to return its entire data signal.
A Premises ID is required when ordering 840 tags.

How to get a Premise ID Number: To obtain a premises ID (PIN), please contact the state animal health authority [Animal Disease Traceability (ADT) Administrator] for your state. A directory can be found at www.aphis.usda.gov/traceability/contact_us/directories.shtml.